Private Pension
Targeted, tax-free investing for a secure tomorrow

Globally diversified, actively managed and free to access in retirement – our private pension is built and managed around your target retirement date.
Pay less tax today and tomorrow
Receive up to 45% tax relief on your contributions and enjoy tax-free cash at retirement.
Save on fees and stay in control
Invest when you want, set up employer contributions, and combine pensions to save on fees.
Plan for the retirement you want
Set goals with your investment adviser, backed by digital investment advice to keep you on track.
What your Moneyfarm Private Pension can do
Real diversification
We combine different asset types, geographies and currencies to target long-term growth at low cost and the right level of risk for your retirement.
Target date approach
We'll rebalance your portfolio as your retirement date approaches, shifting from riskier assets such as equities in the earlier years, towards lower-risk investments.
Free income drawdown
We explain your options on using your retirement funds to give you an income while leaving the rest invested to keep growing. Learn more
No hidden costs
Our single account management fee keeps things simple, with no penalties to worry about and free transfers in or out of Moneyfarm.
Actively managed to keep your retirement on track
Our portfolio management team will monitor, adjust and rebalance your pension portfolio to grow in the long term while making the most of short-term opportunities.

More on our portfolios
Our four year track record
| Our Portfolios | Moneyfarm | Competitors |
| --- | --- | --- |
| P1 – Low Risk | 8.4% | 4.1% |
| P2 | 16.4% | 14.3% |
| P3 | 28.6% | 22.4% |
| P4 - Medium Risk | 31.6% | 22.4% |
| P5 | 36.5% | 31.8% |
| P6 | 40.7% | 31.8% |
| P7 - High Risk | 55.2% | 38.9% |
Key to the figures
Moneyfarm returns net of fees since inception (01/01/2016 to 31/12/2019) vs. average peer group performance over the same time period.
These past performance figures are simulated. Past performance is no indicator of future performance.
Click here to read the full risk warning
Important information
Moneyfarm data
The returns here are simulated using an assumed balance of £250,000, and the average management fee from our pricing model of 0.46% from 01/01/2016 to 31/10/2017 and 0.55% from 01/11/2017 to the 31/12/19. The returns are net of underlying fund costs and market spread. The returns are the total returns, so include all dividends. (Data Source: Bloomberg/xignite)
Peer Comparison Data
Asset Risk Consultants ARC collects the monthly returns of a collection of discretionary investment managers including large Asset managers, private banks and Wealth Managers to create an index of the average returns for a given level of risk.
ARC benchmarks are as follows:
| Private Client Index | Relative Risk to World Equities |
| --- | --- |
| ARC Cautious PCI | 0 – 40% |
| ARC Balanced Asset PCI | 40 – 60% |
| ARC Steady Growth PCI | 60 – 80% |
| ARC Equity Risk PCI | 80 – 110% |
Where the relative risk to World Equities means you are taking approximately that percentage of the risk global stock markets.
Moneyfarm's Risk level 2 is compared to the ARC Cautious Private Client Index (PCI), our risk levels 3 and 4 use the ARC Balanced Asset Private Client Index (PCI), levels 5 and 6 are both compared to ARC Steady Growth Private Client Index (PCI) and our risk level 7 is matched to ARC Equity Risk Private Client Index PCI
ARC compiles indexes using the average competitor returns, including Barclays Wealth, HSBC, Investec Wealth and Investment and Blackrock, as well as many others.
P7 Portfolio
Please note that ARC does not independently verify the performance of the Model submitted by Moneyfarm. The returns shown refer to simulated past performance of our model portfolios from 01/01/2016 to 31/12/2019, this portfolio only became available to clients on 16/05/2019. Past performance is not an indicator of future results.
P1 Portfolio
ARC does not produce an index that is a suitable comparison for P1, as it does not contain any equity. We use monthly GBP Libor + 0.5%, as this is a cash proxy, which Moneyfarm believes is a fair comparison.
Pension calculator
How your retirement income could look
Are you unsure how much you should be saving in your pension? Remove the guesswork and use the free Moneyfarm Pension Calculator to find out how much you should be putting away each month.
Calculate your pension
Planning for a better tomorrow
1. One-to-one live guidance
For the big decisions about your future or the times you'd just prefer to speak to someone, call, email, chat online or meet face to face with your adviser. They'll help you to refine your personal plan and portfolio in line with any changes in your circumstances.
2. Evaluate your retirement plan
We'll help you plan ahead and think about your next steps, reviewing your existing investments, looking at performance, cost and quality. We'll estimate your retirement income and help you with combining your pension pots or drawdown.
3. Monitored to keep you on track
You'll receive digital investment advice from day one, delivering your investment plan and recommending an actively managed portfolio matched to your goals, experience, attitude to risk and the volatility you can handle. It keeps your portfolio ideally suited to you, even if your circumstances change.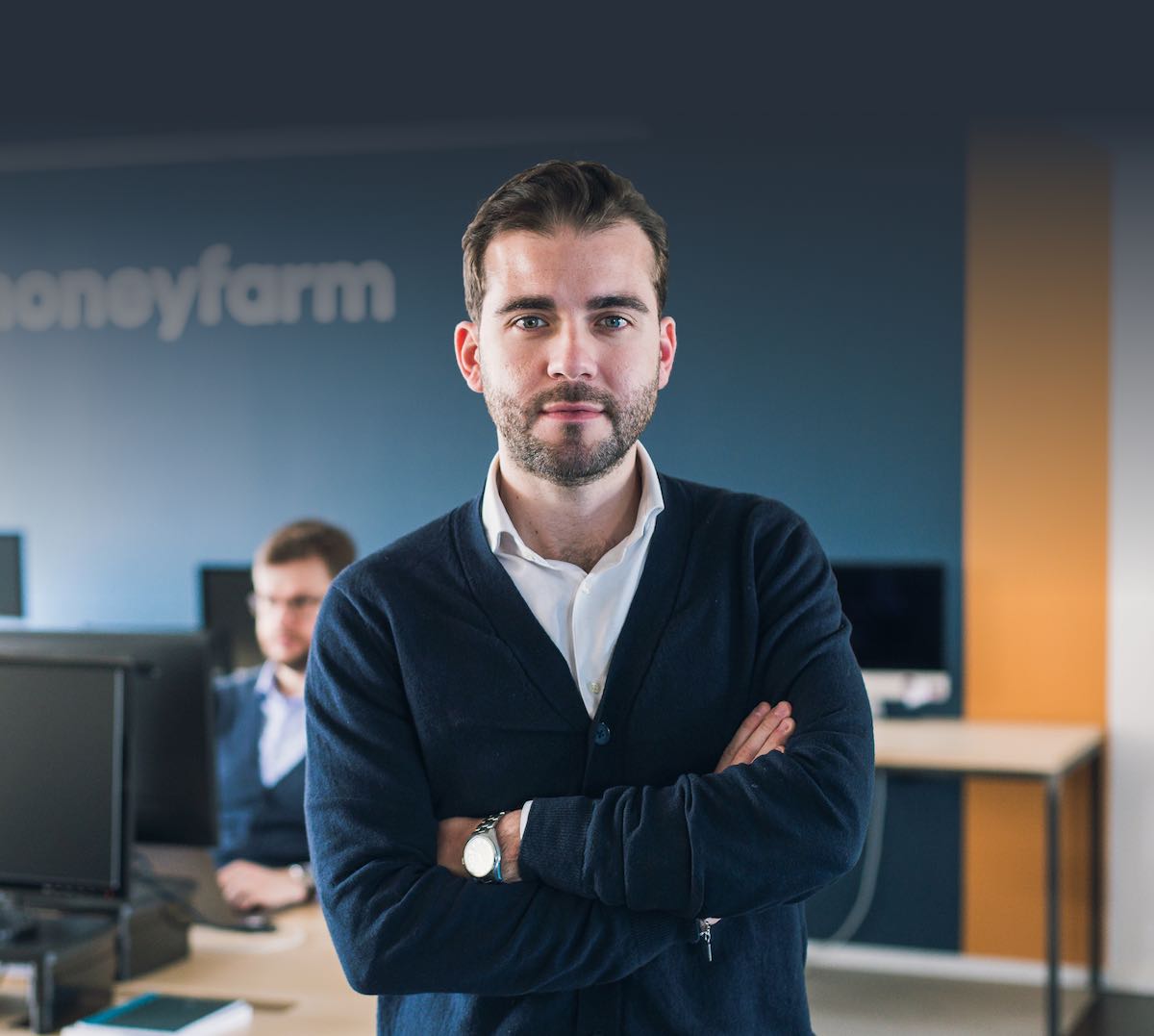 Keep more of your retirement money
Our yearly account management fees (incl. VAT) are billed monthly and are calculated daily based on your portfolio value.
Free transfers in and out
No trading or dealing costs
Target-dated and free drawdown
ON THE FIRST
£10,000
0.75%
per year (incl. VAT)
ON ANYTHING BETWEEN
£10,000 - £50,000
0.60%
per year (incl. VAT)
ON ANYTHING BETWEEN
£50,000 - £100,000
0.50%
per year (incl. VAT)
ON ANYTHING OVER
£100,000
0.35%
per year (incl. VAT)
+ average investment fund fees per year 0.20%
+ effect of market spread? per year up to 0.09%
Minimum investment: £5,000 or £1,500 + regular direct debit
Take control of your retirement today
It's quick and easy to get started. Build your Moneyfarm Private Pension in minutes.
1. Tell us about yourself
What you're investing for, the length of time you're working until retirement and your approach to risk. This will help us build your investment plan.
2. Get your plan and portfolio
We'll recommend a globally diversified portfolio suited to you and your goals. You can discuss your recommendations with your investment adviser before you go ahead.
3. Build your retirement pot
Fund your account to get automatic 20% tax relief, set up employer contributions and combine existing pensions. Depending on your tax status you could claim more tax relief.
Get started now
Pension tax benefits that really add up
Tax relief on contributions
Get 20% automatic tax relief on contributions, and claim up to 40% or even 45% if you're a higher or additional rate taxpayer. The result is £100 in your pension for an outlay of £80 (or less).
No tax within the pension
You won't pay income tax or capital gains tax on income or growth within the pension. This can make a big difference over the long term, especially if you're saving for decades.
Tax-free lump sum on withdrawal
From age 55, you can typically take up to a quarter of your whole pension as a tax-free lump sum if you want to, with flexibility about how you use the rest.
Start a pension
| Basic rate of tax – up to £50,000 | - |
| --- | --- |
| Tax relief | 20% |
| To get £10,000 in your pension add | £8,000 |
| Additional relief through HMRC | 0 |
| Higher rate of tax – £50,000 - £149,999 | - |
| --- | --- |
| Tax relief | 40% |
| To get £10,000 in your pension add | £8,000 |
| Additional relief through HMRC | £2,000 |
| Additional rate of tax – £150,000 or over | - |
| --- | --- |
| Tax relief | 45% |
| To get £10,000 in your pension add | £8,000 |
| Additional relief through HMRC | £2,500 |
Transfer your pension to Moneyfarm
Combining your old pensions can make them easier to manage, help you save on fees, and offer more withdrawal options later on. It's easy to do and gives you one clear view of your retirement, which you can check any time.
We'll need your provider's name, your account number and the pension's estimated value. You can enter these details online or via the app and we'll manage the transfer process for you, free of charge.
We'll talk to your existing provider and move your pensions over for you electronically, removing paperwork from the transfer and this process should take three to four weeks, although this depends on your provider.
Transfer a pension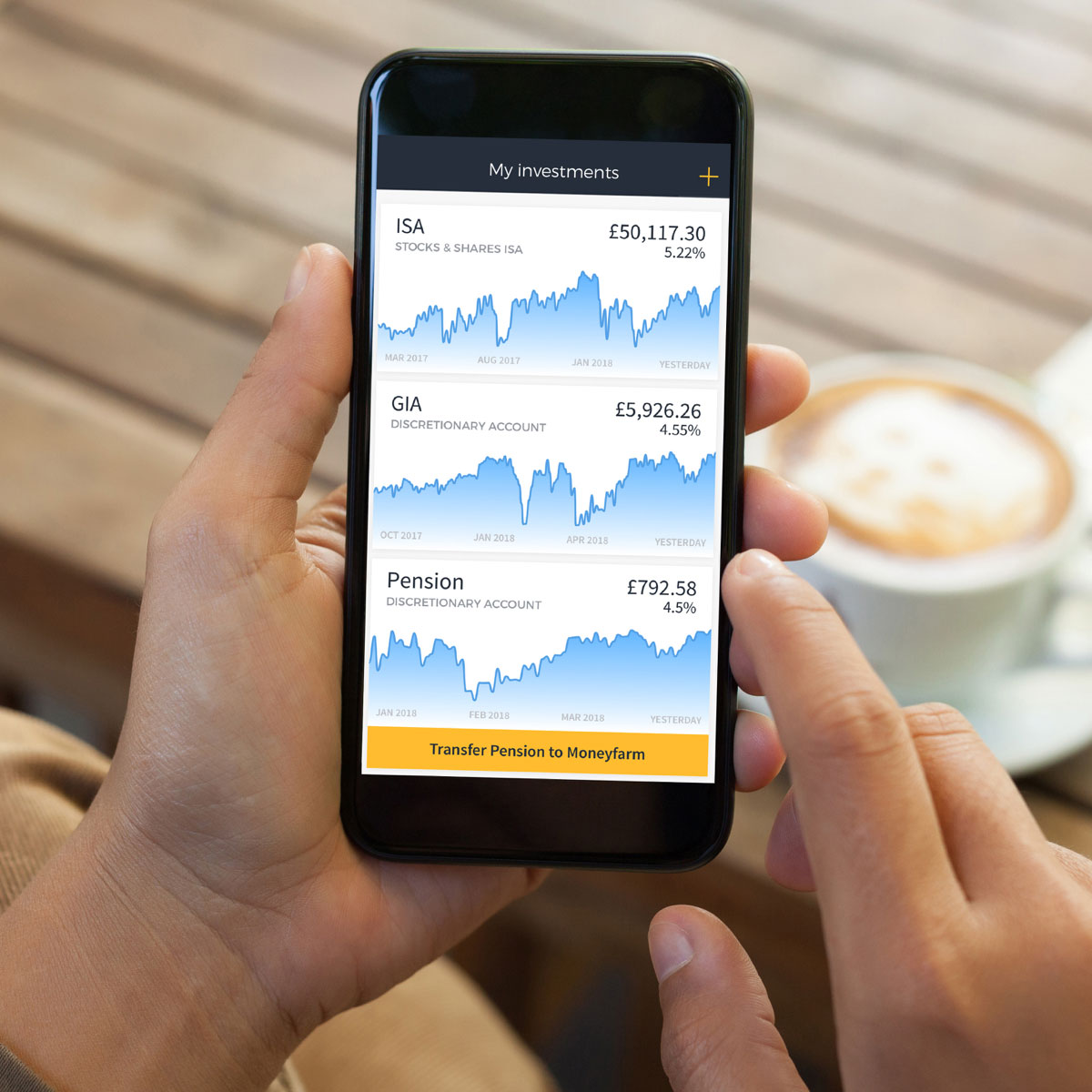 We keep you, your pension and your data safe
Protected
Our Sectigo-certified encrypted connection protects your personal data and keeps your account details safe.
Secured
We keep your money and investments separate from our own, held in accounts with Barclays and Saxo Capital Markets.
Regulated
We're FCA-authorised and covered by the UK Financial Services Compensation Scheme (FSCS), providing an additional layer of protection for your investments of up to £85,000.
Pensions Frequently Asked Questions
It's important you understand all the options available to you to make the right decisions with your retirement savings.
Here you can find some answers to the most frequently asked questions, our you can read more on retirement on our pension guide linked below.
Read our pension guide
I'm self-employed, can I use the Moneyfarm pension?
Can my employer make contributions to my Moneyfarm pension?
What is the annual pension allowance?
How much should I contribute to my pension?
Can I transfer a pension?
Is there a minimum transfer value?
How do I transfer a pension?
Can I transfer a pension if I've started to take benefits?
What type of pensions can I transfer?
How long does it take to transfer a pension?
What happens to a pension when you die?
What annuity could I get with my pension when I retire?
How much tax will I pay on my pension?
What is the lifetime pension allowance?
Set up a Private Pension
Tax-efficient, globally diversified and actively managed portfolios to meet your goals – with an investment adviser on the phone.