Want to be part of the future of investing?
Are you a talented professional looking to add something unique to a diverse and fast-growing customer-first team? Do you want to help make the future of investing more accessible to more people?
If this sounds like you then we'd love to hear about it. Please take a look at our open roles.
See our open roles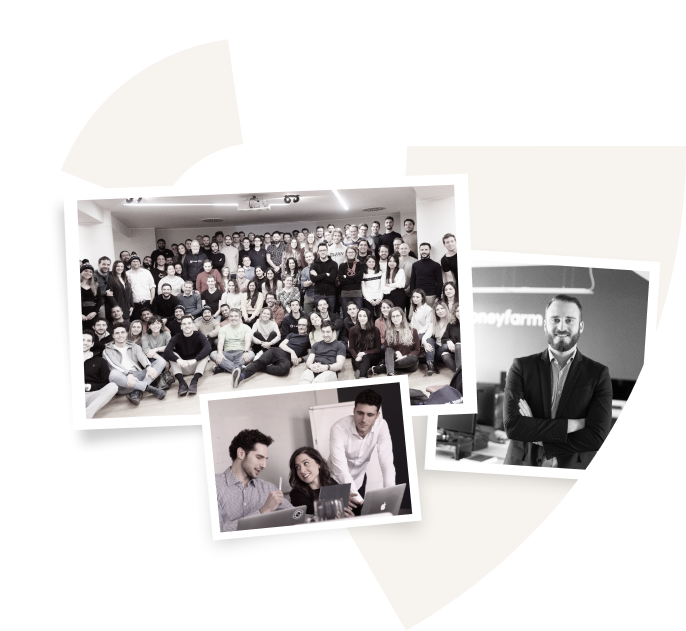 Get to know our core values

Relationships
are our first asset
We're conversation starters

Trust
drives success
We keep it simple and transparent

Customers
dream big, just like us
We're driven by ambition
Our core values are what make us tick and we've a guiding set of principles to help us live them every day. We're down-to-earth, honest and driven. This is Moneyfarm culture. What gets you out of bed in the morning?
Living our values
Here's why great people join us, and why they stick around.
Colourful offices in London and Italy
Born in 2012 in Milan, we're now headquarted in London, UK.
We've also got offices in Cagliari, Sardinia – which is where some UK Moneyfarmers like to pretend they need to run workshops and other essential meetings.
Along with your living room, all our offices are relaxed, informal spaces, there for you to use whenever you need.
Enjoy flexible working
Great office locations – including your living room
Feel good
Private healthcare – with healthy rewards and cashback
Money perks
Fee-free investment on  Moneyfarm products
And lots more ...
It's not just about £2.5 billion under management
A few more numbers that are just as important to us.
We're driven to capitalise on our inclusive nature and continually strive to add more and more diverse minds and cultures to our offices in London and Italy.
Interviewing with us
Once you've applied, you'll be asked some standard questions about your situation and expectations.
You'll meet 1:1 with a handful of Moneyfarmers so we can get to know each other a little better.
If needed, you'll get a chance to show off your technical skills.
Finally, you'll come back to HR to talk about the details.
See our open roles